"Of all of Tiffany's artistic endeavors, stained glass brought him the greatest recognition. During the fifty years that he worked in the medium, from about 1877 through the 1920s, his firm produced thousands of windows for buildings throughout North America—for houses, libraries, department stores, theaters, and especially churches. Tiffany's windows were also installed in Great Britain, France, Cuba, and Australia. An integral part of the churches being built in increasing numbers during the last quarter of the nineteenth century, the large and colorful windows became an appropriate and impressive way for wealthy parishioners to memorialize their loved ones. In a new departure for urban dwellings, stained glass became desirable not only for shielding the occupants from dreary backyard views but also for the richness they added to the decorative schemes of the interiors.

Beginning in the late 1870s, Tiffany and his early rival John La Farge revolutionized the art of stained glass. Until then, the craft had remained essentially unchanged since medieval times. La Farge and Tiffany, dissatisfied with the limited colors and poor quality of available window glass, experimented with novel types of materials, achieving a more varied palette. Opalescent glass, internally colored with variegated shades of the same or different hues, enabled artists to substitute random tonal gradations, lines, textures, and densities—inherent in the glass itself—for the pictorial details that previously had been painted on the glass. Other innovations involved plating, the addition of one or more layers of glass to attain greater depth of color and three-dimensional effects and to blend different hues. Tiffany drew from a stock of thousands of different types and colors of glass, some of which were given dramatic textures and shapes through the use of molds and through manipulation of the material in its molten state.

Tiffany also introduced new subject matter into his windows. While continuing to provide figural windows of saints and biblical themes for churches, he at times eliminated the figure altogether, conferring religious significance on the landscape and the natural world itself. Memorial windows in churches and mausoleums often featured verdant woodland themes, streams meandering through mountain valleys, or floral motifs. Tiffany's lifelong preoccupation with gardens inspired some of the most naturalistic depictions of flowers and plants in all of stained glass."
From the Metropolitan Musuem of Art Website
http://www.metmuseum.org/explore/Tiffany/menu.html
He was also one of the founding members of the Society of American Artists. And Rodman, Helena and Richard's son, married Tiffany's daughter.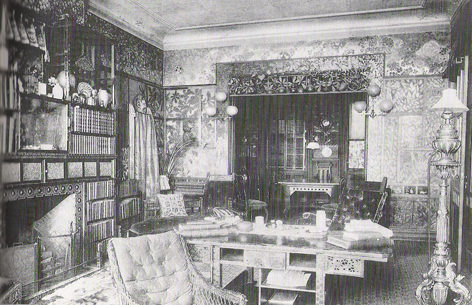 Tiffany's Library